On a roll
So, I know it's still October and I've already completed my 2 new recipes this month (as part of my
30 Things by Thirty list
) however, I just coudn't help myself. This week has been rainy and dark here in ATL so it has me feeling like it's time for winter stews and soups, despite not really being cold enough to justify! Regardless, I tried Chicken Taco Tortilla soup and it was delish. It's super easy to make, tastes like a taco in a bowl and much less messy than taco night!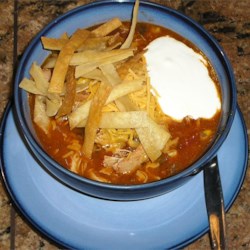 Here's the recipe, give it a try and let me know what you think!
1 onion, chopped
1 (16 ounce) can chili beans
1 (15 ounce) can black beans
1 (15 ounce) can whole kernel corn, drained
1 (8 ounce) can tomato sauce
1 (12 fluid ounce) can or bottle beer
2 (10 ounce) cans diced tomatoes with green chilies, undrained
1 (1.25 ounce) package taco seasoning - I make my own
3 whole skinless, boneless chicken breasts shredded
Cheddar cheese (optional)
sour cream (optional)
crushed tortilla chips (optional)
Directions
Place the onion, chili beans, black beans, corn, tomato sauce, beer, and diced tomatoes in a slow cooker. Add taco seasoning, and stir to blend. Lay chicken breasts on top of the mixture, pressing down slightly until just covered by the other ingredients. Set slow cooker for low heat, cover, and cook for 5 hours.
Remove chicken breasts from the soup, and allow to cool long enough to be handled. Stir the shredded chicken back into the soup, and continue cooking for 2 hours. Serve topped with shredded Cheddar cheese, a dollop of sour cream, and crushed tortilla chips, if desired.